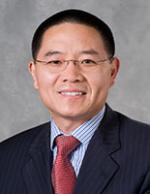 Dr. Dali Feng was born in China, where he completed his medical school training. He emigrated to the U.S. and spent six years at Beth Israel Deaconess Medical Center of Harvard Medical School as a researcher working on cardiovascular genetics and thrombosis. He finished his internal medicine residency training in Boston Medical Center, Boston University School of Medicine and completed his cardiovascular disease fellowship training at the Mayo Clinic. He was appointed as an assistant professor at Mayo Clinic from 2005-2008. He has been with Metropolitan Heart and Vascular Institute since 2008.
Dr. Feng's professional interests include general cardiology, with particular interest in cardiovascular imaging – including nuclear imaging, echocardiography, cardiac MRI and cardiac CT.
He is also an accomplished cardiovascular researcher, with publications of more than 60 abstracts, 40 original manuscripts and chapter of five books.
In his spare time, he enjoys fishing, canoeing, and rollerblading.