Minnesota Chinese Health Center - MCHC
Minnesota Chinese Health Center (MCHC) is a volunteer clinic serving not only the Chinese community but also the local general population in the greater Twin Cities area. It is a 501(c)3 nonprofit organization committed to serving the under-served and uninsured populations by providing the basic medical service available through MCHC. It is also open to anyone who has medical problems.
MCHC is sponsored by the Association of Minnesota Chinese Physicians (AMCP) and staffed by AMCP volunteer physicians who provide free medical service. AMCP is a non-profit professional organization of licensed Chinese Minnesotan physicians practicing Western medicine or traditional Chinese medicine and acupuncture.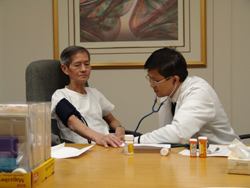 MCHC opens from 1:30 PM to 3:30 PM every Saturday except Holidays. Each clinic session is staffed with at least one physician practicing Western medicine and one physician practicing traditional Chinese medicine and acupuncture. The schedule is published on this website and through local Chinese media. Patients are encouraged to check the schedule for available Western medicine specialty service before a visit. An appointment is needed for seeing any subspecialist.
The address of the clinic is: 1925 West County Road B2, Roseville, MN 55113. It is located inside American Academy of Acupuncture and Oriental Medicine. You can also contact us at 612-666-1670.
MCHC welcomes any support from the community, including but not limited to health organizations, foundations, government agencies and private donations, to continue and improve our service.